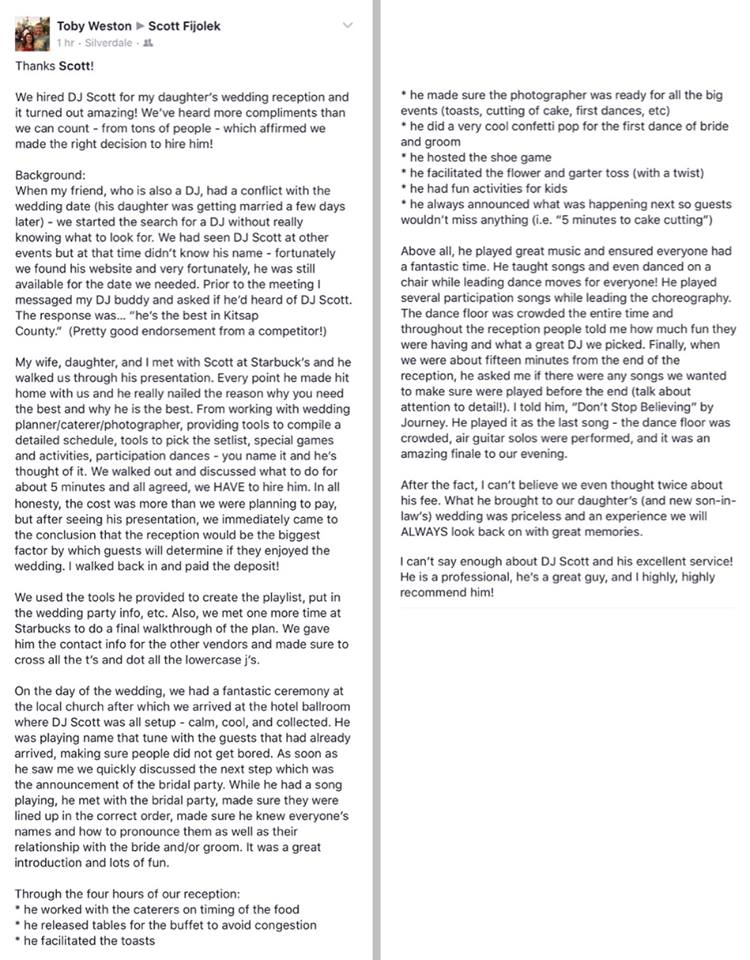 WOW!!! Thank you for this review, Toby! It was very encouraging to receive a review from the father of the bride's perspective. I LOVED being the Wedding DJ / Producer at Taylor & Scott's wedding and I Always LOVE working at the Best Western Plus Silverdale Beach Hotel . Angela and her staff are AMAZING!! www.SilverdaleBeachHotel.com (Angela Engle: 360-698-1000 ext 505) Email (angela@silverdalebeachhotel.com) They are THE BEST. Wes Davis was the perfect choice for a wedding officiant. newlife.tv. He is the minister at my church "New Life Kitsap" and he is AWESOME!!! (www.newlife.tv) The caterers Kurt and Donna Strep did an EXCELLENT job creating a flawless and delicious meal for everyone (kurtstrep@tc-markets.com) and Sara Rowland S.C. Photography is a WONDERFUL photographer!! (To contact Sara to photograph your wedding, please contact her at 360-801-2165) On Facebook (www.facebook.com/SC-Photography-372918736198402) P.S. Toby, your "Air Guitar" is by far the best one I've seen 🙂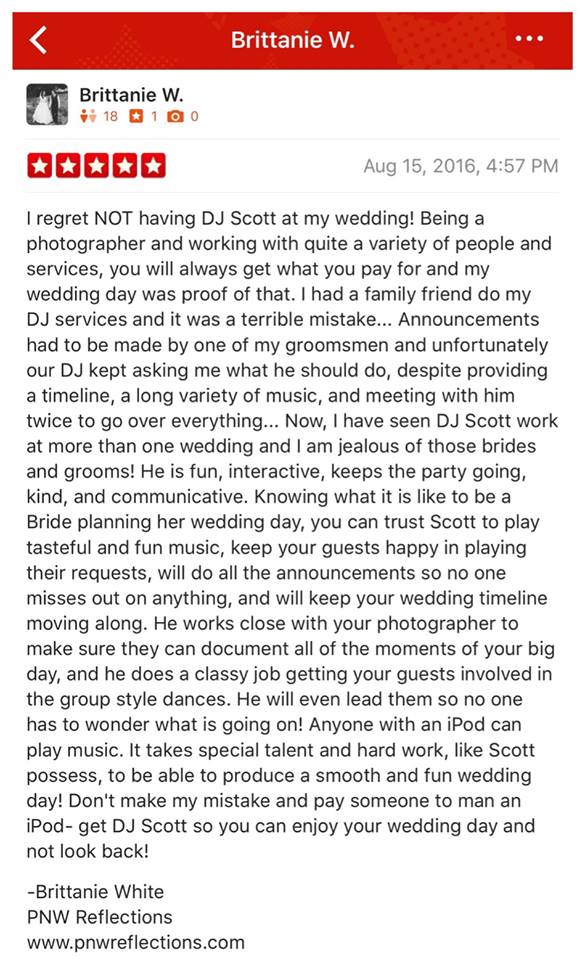 WOW! Thank you Brittanie for writing me a review. (Especially from the perspective of a wedding photographer and someone who did not have me as their wedding DJ.) My heart is overflowing with gratitude because of your review and the kind words you said about me and my service. We have worked with each other at weddings a few times now and you are truly a COMPLETE joy to work with. If anyone needs a wedding photographer, here is Brittanie's contact info (www.pnwreflections.com) 360-584-6173 (PNW Reflections) I HIGHLY RECOMMEND Brittanie White.
DJ Scott Fijolek
AskDJScott.com
360-367-6863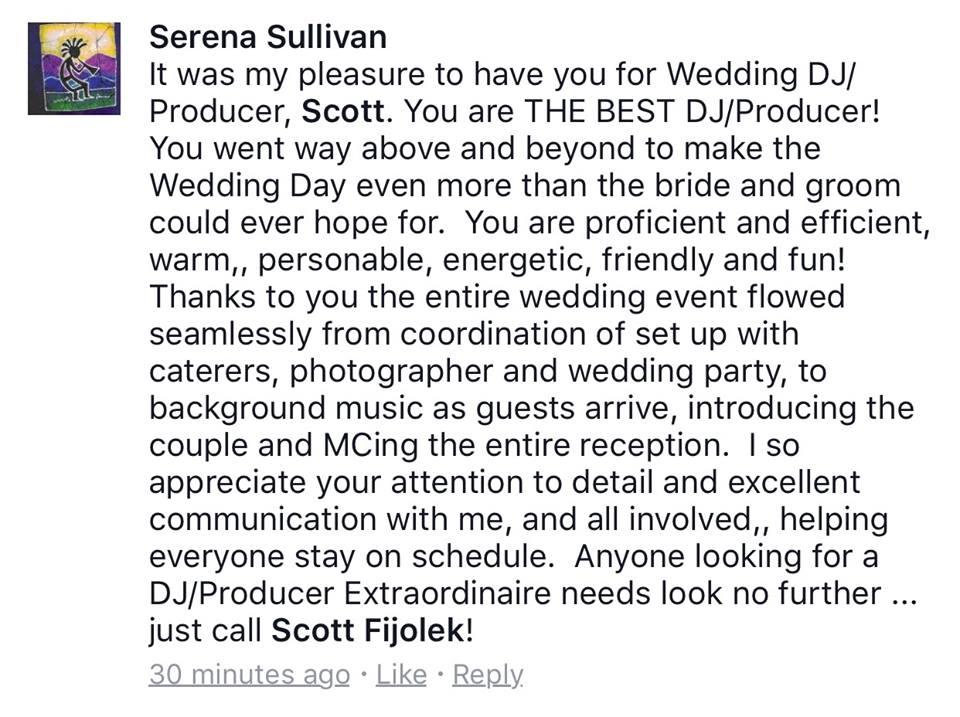 Thank You Rev. Serena for your VERY thoughtful review!! It was a HUGE Blessing being able to work with you at Jeff & Constance's wedding. (If anyone needs an Awesome Wedding Officiant, contact Rev. Serena Sullivan: 206-604-7732 or Email: revssathome@comcast.net) Rev. Serena is A-M-A-Z-I-N-G!!
DJ Scott Fijolek
360-367-6853
AskDJScott.com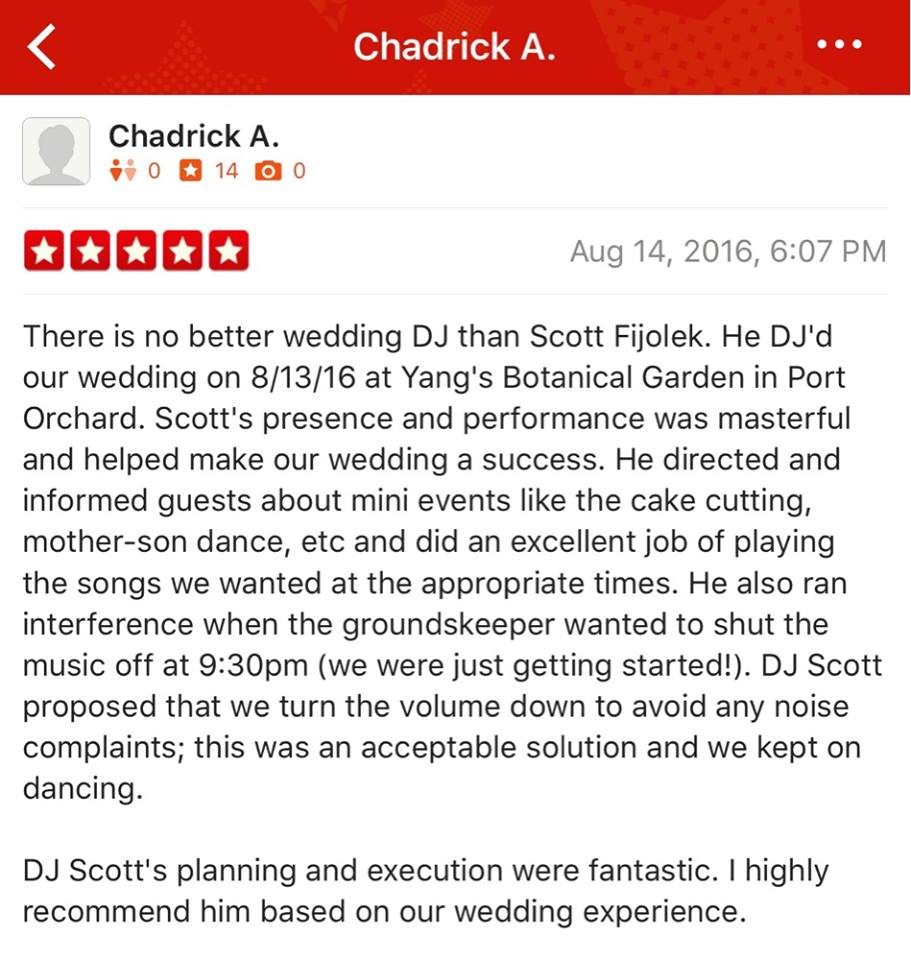 Thank you Chad for your review! I LOVED being the Wedding Producer / DJ for your wedding with Leslie (She is by far THE BEST!) I also Loved meeting your friends and family!! They are Amazing and FUN! The Flash Mob was PERFECT! Yang's Botanical Garden was a "Georgeous" venue to have your wedding at!! (Mr. Yang: 360-871-3555) www.yangsgardens.com (yangsweddings@gmail.com) The botanical garden was Breathtaking! (Despite the hiccup we had with their timing mistake, but we were able to turn a negative into a positive!!) Wedding Officiant Rev. Tim Phillips was WONDERFUL. I LOVED the way he personalized & customized his ceremony to you and Leslie. (Rev. Tim: 206-325-6051 x104 Email: Tim@seattlefirstbaptist.org) "Especially the Gift he gave to you and Leslie that had to do with your Wedding metaphor (then my little added touch with the song he spoke about: "You make me feel like dancing") Brank's BBQ & Catering (BranksBBQ.com / Phone: 253-891-1789 ) provided a delicious meal for the guests. Your wedding photographer is one of my FAVORITE photographers of ALL TIME!!! (Mary Eklund of Four Feet Photography : 360-551-2923, email info@FourFootPhotography.com, Website: FourFootPhotography) I also loved meeting and working with your Videographer: Julian Beltran! He did a phenomenal job capturing all the fun memories on video!
DJ Scott Fijolek
360-367-6863
AskDJScott.com