Thank you Bonalee & John for your review. You two will always have a very special place in my heart !! You two are an AWESOME couple. I LOVED all the times we spent together planning your wedding and I extremely enjoyed meeting your friends and family. Your wedding was WONDERFUL! Such an outstanding day! I also loved working with your photographer Jill Carnell Danseco Lemonade Photography (LemonadePhotography.com) 360-286-4394. She is A-M-A-Z-I-N-G !! The Eagles Nest was a fantastic venue located by the Kitsap County Fairgrounds in Silverdale (http://tinyurl.com/eaglesnestsilverdale) What a fun location!! In addition, Ronda (O'Sullivan) Williams and her team at Ambrosia Catering LLC : 360-479-2885 (http://www.ambrosiacateringllc.com) provided the most SENSATIONAL meal as they always do !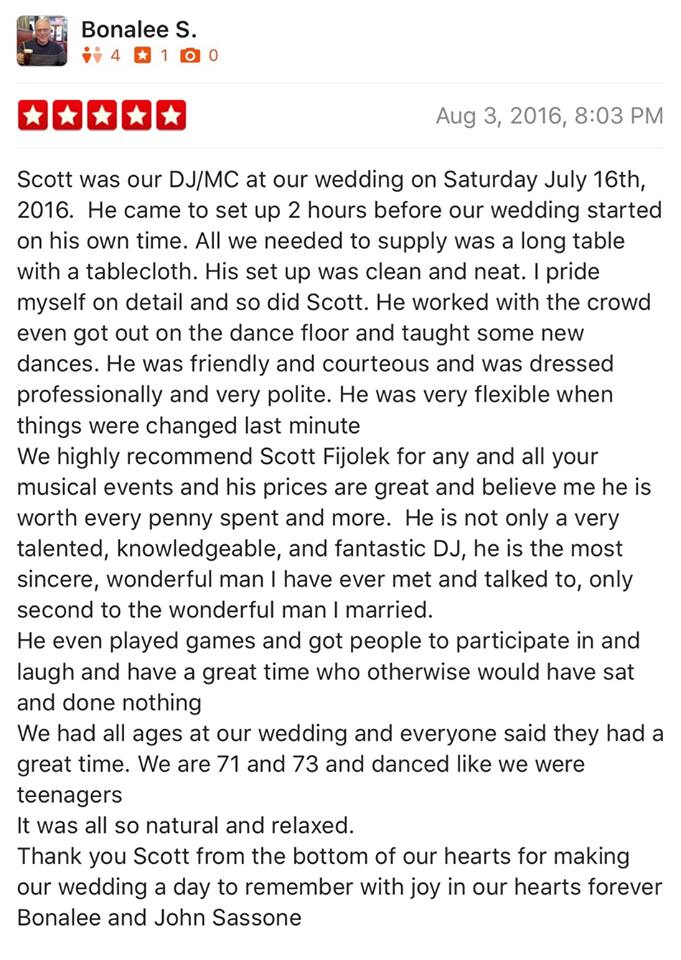 Thank you Melissa & Alex for your Review! You filled my heart up with joy! You were two of my favorite clients to work with! You are such a wonderful couple! I LOVED your friends and family!! (Your Montana Friends are a BLAST!!) Choosing Port Gamble Weddings is always an excellent choice. (www.PortGambleWeddings.com) Their phone number is: 360-297-8074 (EVERYONE that works there is THE BEST) In addition, it was a Complete joy to work with Photographer Catherine Straume! (www.CatherineStraumeWeddings.com) She Rocks!! (Her phone number is: 425-512-6239, if anyone is looking for a photographer)
P.S. Since this is a long review, it comes out blurry on fb until you click on it
DJ Scott Fijolek
AskDJScott.com
360-367-6863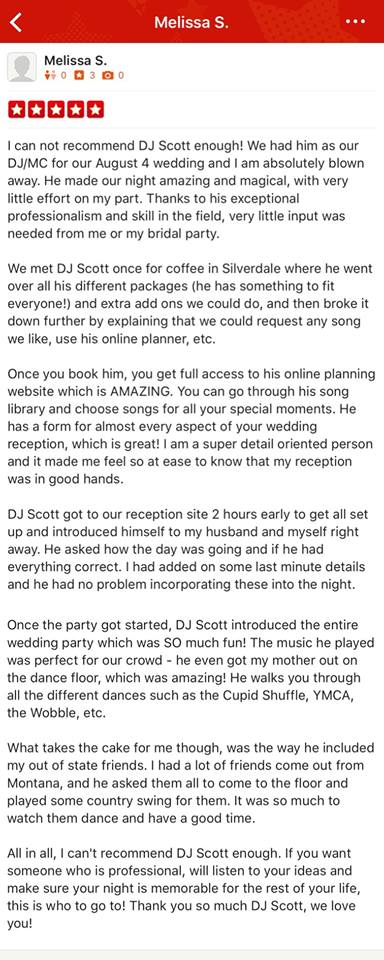 Thank you Danielle & Josh for your review. I Loved being your Wedding Producer / DJ, and not only was your parent's house the perfect place to have the wedding, but your parents are an absolutely WONDERFUL couple!! Your officiant, Shirelle (email) shirelle@mysouthsoundwedding.com (MySouthWedding.com) was Amazing!! Elemental pizza was a VERY FUN choice for catering (Email: andrewh@elementalpizza.com) Elemental Pizza, Tacoma (ElementalPizza.com). Nate Burgher (Email: nateburgher@thefourfront.com) The FourFront is one of my all time favorite photographers. (TheFourFront.com) Nate knows how to get people to smile and he gets awesome photos and is SO much fun. You even chose one of my MOST favorite florists – Dana Kugler ( Maddy's Old Town Flowers – 360-275-6062) It was DEFINITELY a Fun, Memorable, Exciting & Beautiful day/evening!! Thank you for choosing me !
Scott Fijolek
Wedding Producer/DJ
AskDJScott.com
360-367-6863